These chocolate zucchini muffins are not too sweet and somewhat healthy.
INGREDIENTS
1 ½ cup all-purpose white flour
⅔ cup whole wheat flour (or substitute white flour)
1 cup granulated sugar, plus 1½ tbsp. for garnish
3 Tbsp non-alkalized or Dutch-process unsweetened cocoa powder
2 tsp baking powder (used Clabber Girl Baking Powder)
½ tsp salt
1 cup chocolate chips, divided
⅓ cup canola oil
2 medium. zucchinis (7-inch long), cut into chunks
⅓ cup low-fat or non-fat vanilla yogurt
2 eggs, large
⅔ cup chopped walnuts
DIRECTIONS
Recipe for Chocolate Zucchini Muffins slightly adapted from Clabber Girl
Line standard muffin pan with 12 muffin cup liners or use baking spray to coat pan. Preheat oven to 375 degrees Fahrenheit.
Place both flours, baking powder, sugar, cocoa powder and ½ cup chocolate chips in a food processor. Pulse until chocolate chips are finely ground. While the processor is running, add canola oil in a low stream. Scrape sides and pulse until combined. Place chocolate mixture in a large bowl.
Add chopped zucchini to food processor and pulse until finely chopped (you should have about 1½ cups). Add zucchini to chocolate mixture.
Place eggs and yogurt in processor and pulse until blended. Add to zucchini/chocolate mixture. Mix until just combined. Fold in remaining chocolate chips.
Divide batter among muffin cups until almost full. Top muffins evenly with 1½ tablespoon of sugar. Bake in middle rack of oven for 20-24 minutes.
Cool on wire rack for 5 minutes. Keep in airtight container at room temperature for 3 days (If it's hot the sugar tops may melt a bit).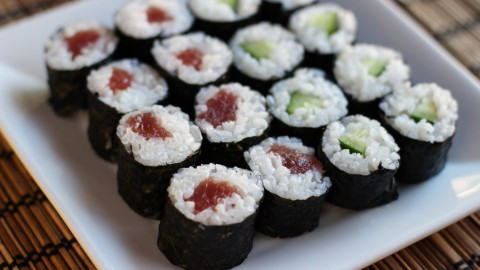 Sushi Rolls or Hosomaki are a very basic but popular sushi in Japan. Hoso means thin and maki means roll. We want to say "thin" because there are also thick rolls, Futomaki. While Futomaki has a lot of fillings such as cooked vegetables and sweet fish flakes, Hosomaki rolls only have one skinny filling inside. Because of the simplicity of ingredients and cooking technique, Hosomaki is suitable for home cooking as well as restaurant food.
The two most popular Hosomaki are Tekkamaki, tuna roll, and Kappamaki, cucumber rolls, and those are the recipes here. Tekkamaki uses raw tuna which has a pretty red color against white rice. The name Tekka, hot iron, is said to come from this color. You only need a little bit of fish for each roll, the price of this roll is very reasonable at restaurants. Kappamaki is only cucumber and so is perfect for people who don't eat raw fish. There is something for everybody in sushi rolls!
Hosomaki filling can be something other than tuna and cucumber. Takuan (pickled radish) and cooked Kanpyo (cooked gourd) are popular. People in Japan also like Nattomaki (fermented soybeans) which is a little hard to swallow, literally, for Kansai (western Japan) people since a lot of them don't like Natto. Believe it or not, tuna salad is a staple ingredient for rolls now too.
We didn't specify the amount of ingredients so you can adjust how much rice and fillings can be in a roll for your taste. However, if you use our
Sushi Rice recipe
and use 1/4 cup in each roll, you'll probably get 7-8 rolls. We recommend you have extra rice and fillings to experiment and have fun making them.
You may need a couple times to practice to roll (I did!), but you'll get the hang of it. (Watching the video really helps with this technique.) Make varieties of rolls for dinner or better yet for parties, and your fiends and family will be very impressed!
Ingredients
Roasted Seaweed (8 X 7 1/2", or 21 x 19cm)
raw tuna (sashimi grade)
Japanese cucumber (or Persian or English)
Instructions
Cut Roasted Seaweed in half (4 x 7 1/2" or 10 x 19cm). Cut tuna into 1/2" (1cm) thick pieces and 7 1/2" (19cm) long. Cut cucumber into the same size, cutting out seeds. (It's OK not to have one 7 1/2" long piece, just add pieces together to make the total length.)
Put a sushi mat flat on your work surface with the bamboo slats left to right, so you can roll the mat away from you. Place a piece of seaweed on the sushi mat with one of the seaweed's long sides close to the front edge of the sushi mat (the edge near you). Spread about 1/4 cup sushi rice on the seaweed leaving a 1" (2.5cm) space along the far edge of the seaweed. Place tuna or a cucumber strip on the middle of rice. Holding the filling down, roll from the front end of the mat guiding with the sushi mat toward the other end. Tighten the rolls like roll cakes, pulling the mat to tighten. Remove the roll from the mat.
Cut a roll into 8 pieces. Serve with soy sauce and Wasabi.