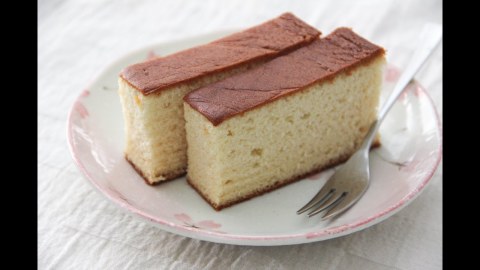 Kasutera (Castella) is an old-fashioned Japanese sponge cake that is loved by everyone from the young to the old. It is sweeter and moister than western sponge cakes which are often designed to be eaten with cream or some kind of frosting. You can eat Kasutera as is, and it is perfect for tea time with green tea.
It is said that the original Kasutera cake was brought to Kyushu, the southern island of Japan, in the 16th century by Portuguese missionaries. Over hundreds of years Kasutera has been improved to Japanese tastes, and it has become today's Kasutera. It is sweetened with sugar and honey or gooey syrup like corn syrup to make the cake very moist. Also the substantial amount of sugar and syrup gives the Kasutera's signature look of a dark brown top which is the favorite part of the cake for a lot of people (I peel the brown skin off and eat it first!). Kasutera is soft but chewy in texture, different from the sponge cakes in western countries. Flour with higher gluten content such as bread flour is used to achieve this result. Still, it is a very light cake, and there is no fat in it.
Kasutera is sold at many old established Japanese sweets stores, department stores, and even supermarkets. Prices and flavors varies widely. Expensive ones from nice stores are usually for gifts, and cheap ones from supermarkets are for everyday snacks. We can't beat the taste of the store run by a family for generations, but our version is pretty good for home baking. It is hard to stop the urge of eating warm cake, but it is better to leave the cake wrapped for a couple of days before eating. The flavor and texture gets better if you wait.
Even though Kasutera is originally from Europe, it is a very authentic Japanese sweet today. If you aren't sure you want to jump right in to red bean paste cakes yet, this might be an easier starting point for Japanese desserts.
Ingredients
7 eggs, room temperature
1 1/4 cup sugar (250g)
1/4 cup milk (60g)
1/3 cup honey (80g)
1 1/2 cup bread flour (200g)
Instructions
Heat the oven to 350F (175C).
Beat eggs in a stand mixer, adding sugar in 3 parts over about 10 minutes.
Mix milk and honey in a separate bowl, then heat to lukewarm until the honey melts.
Sift the bread flour and set aside.
Add half of the milk mixture to the egg mixture and mix for a few seconds. Add half of the bread flour and mix. Add the rest of the milk and honey, and mix, then lastly add remaining bread flour and mix for 2-3 minutes. Give a good mix by hand with spatula.
Line a 9"X9" (23cmX23cm) baking pan with parchment paper. Pour the cake batter in the pan (if you have leftover batter, bake in another small container). Bake at 350F (175C) for 10 minutes, then lower the temperature to 320F (160C) and bake another 30-40 minutes. Cover the top with aluminum foil if it is browning too much too soon.
Take the cake out from the oven and immediately drop the pan from a height of about 5" (12.5cm) to release the air in the cake to avoid collapsing.
Spread plastic wrap on a flat surface, cool the cake top side down on the plastic. Wrap it with plastic after it has completely cooled.